Planned Breedings
Konnenstoltz Seth Von Dik X Mamba Von Hartenkern
Multi-V rated, A.I.R.K. Youth Seiger (2006)
KONNENSTOLTZ SETH VON DIK
Best Adult Male in Show
of
MileStone Rottweilers

D.O.B. 11/20/04
H/D FREE, E/D FREE
HT: 67cm / wt: 61 kg
Eye: 1A

(Dik V Haus Milsped X Konnnestoltz Gracie)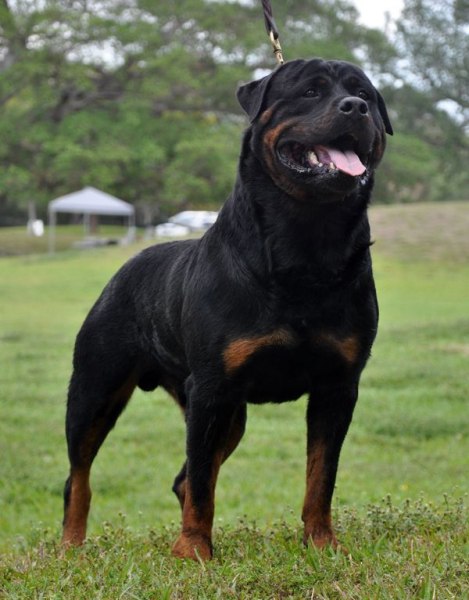 Standing at stud to approved bitches only.

2012 ARV National Seiger show: V2/ Judge: Mick Svaljeck, FCI Australia
2012 ARV Regional Seiger show: V2/ Judge: Lydia Mihajlovic, FCI Serbia
2011 AIRK Southeastern-Atlantic Rottweiler Klub show: V1/ Judge: Dusko Pejovic-Barni, FCI
2006 AIRK Mid-Atlantic Rottweiler Klub show: SG1 (18-24 mos) and Youth Seiger overall/ Judge: Bill Alexander
2006 USRC/Central Florida Rottweiler Klub show: SG2 (12-18 mos)/ Judge: Hans-Juergen Radtke
2005 USRC/Bluegrass Working Rottweiler Club show: VP2 (9-12 mos)/ Judge: Erich Koenigsberger
2005 AIRK East Tennessee Rottweiler Klub show: VP1 (4-6 mos) and Best Puppy overall/ Judge: Josef Hedl
2005 AIRK Eastern Carolina Rottweiler Klub show: VP1 (4-6 mos)/ Judge: Bianka Miksic Kasun

Konnenstoltz Seth Von Dik is a proven show stopper that we have raised in a family environment from a pup. His temperament was the reason his litter was bred and it is the first and foremost important quality of this male and our beloved breed. He is wary of any strangers, yet lovingly devoted to his family……willing to protect us with his life if necessary. I have yet to ever question his judgment of visitors to our home, he accepts whomever we as his family deem as ok.

His pedigree is impeccable and his dimensions are a direct reflection of his genealogy. Seth stands at an impressive 67cm at the shoulder, tips the scale at a solid 61kg, possesses a topline others could only wish for, brings enough bone, head, and substance for two average-sized Rottweilers, and moves it all with an impressive reach and drive for a dog of his stature. His pigment, like his father (Konnenstoltz Dik Vom Haus Milsped), is coal black in color and has been since a pup. Seth possesses what has been referred to as "What our breed is missing and is unfortunately losing at an alarming rate!!" Seth is beyond any shadow of a doubt, an "Old-School male Rottweiler." (Mick Svaljeck, FCI Australia). "A PURE POWERHOUSE!!" (Josef Hedl)

Please feel free to review the following pages and information about this truly unique dog. Throughout his Sieger-Style show career, he has never placed lower than 2nd and has received countless ratings of V-1 from multiple variations of judges all over America.
Pedigree for KONNENSTOLTZ SETH VON DIK
Sire
DIK V HAUS MILSPED IPO I BH ZTP
Sire
BLACK OD DRAGICEVICA
3xBOB 6xCAC CHJ YU
2xCACIB IPO-1 CH YU
Sire
MORRO VOM HAUSE MARKER CHYU CHHR, EDO ZTP SCHH1 VDH-ES INT CH OBS HD-0
Dam
HERA OD DRAGICEVICA
INT CH 3xCAC CHJ YU IPO-1 7xCACIB HD-frei ED-frei
Dam
BETA VON SIKI ROTTWEILER
Sire
BARNI CH YU M CH YU ISP-1 V5 ADRK BIS 7xPRM 22xCAC 3xR CACIB 2x CACIB 11xBOB
Dam
BESSY VON SIKI ROTTWEILER
Dam
UKC/UCI Int. CH. V1 KONNENSTOLTZ GRACIE
Sire
Multi V-1, Multi BISS, A/C CH Von Boylan Antonio Banderas SchHIII
BST, AD, BH, TT, CGC
Sire
Multi V-1, ARV Sieger Am CH Cassius Lad SchH III, BH, AD, BST, CGC, ZtP, Körung, RO-41685G
Dam
Select CH Fine's Ciara von Covenant CD, RTD, RO-405926 RO-EL1350
Dam
Int CH Multi V-1 Siegerin Konnenstoltz Electra
BH AD ZtP
Sire
'93 ARV Nat'l Sieger,'94 ARV Nat'l SchH CH Jeneck's Wotan SchH III, IPO III, FH, AD, Korung, ZtP, RO-34654G
Dam
'95 ARV Siegerin, Multi V-1 Konnenstoltz Schlecht Hundin SchH I, BH, AD, WH
x
MAMBA VON HARTENKERN
of
MileStone Rottweilers

D.O.B. 11/20/2010
H/D-E/D pending eval results
Height: 61 cm/ Weight: 43 kg
Eye: 2A


(Bobby V. Wachberg X Axa Earl Antonius)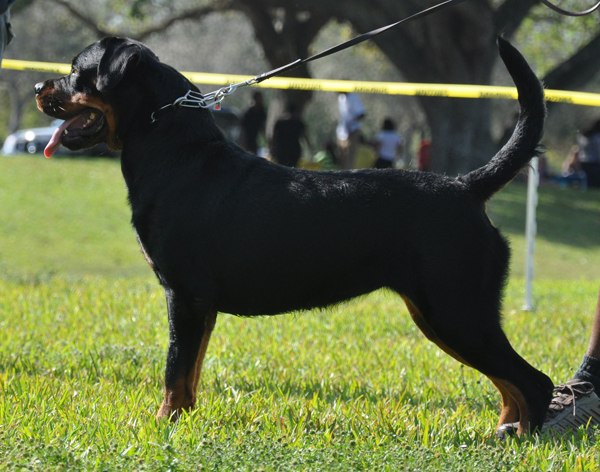 CLICK IMAGES FOR LARGER VIEW
2012 ARV/S.E. Regional Show: V2/ Judge: Lydia Mihajilovic
2012 ARV/National Sieger Show: V2/ Judge: Mick Svaljeck
2013 RKNA Breed Show: SG-3/ Judge: Werner Walter (ADRK), critique:
Med. size, med. strength bones, strong head w/ med. Cheekbones, med. Brown eyes, correctly carried ears, dark pigmnt, chest well developed, straight front, straight topline, strong rear correctly angulated, correct coat with red-brwn markings on chest sooty. Very good movement, Scissor bite.
2013 RKNA Spring Sieger Show: V4/ Judge: Edgar Hellman (ADRK), critique:
Female, 2yrs in age, med. size, tempermental, very good substance and bones, strong head w/ very good stop, dark brown eyes, correct chest, straight front, when standing straight topline, rear muscular, very well angulated, excellent coat and color. Very good movement. Scissor bite.

Mamba Von Hartenkern is a very animated, highly driven female that we have raised from a puppy. She does not know, nor care for, the meaning of the word "Quit!!" when it comes to her ball drive!!!! She has been, by far, one of our easiest dogs to show. When she steps into a ring….her mind is visibly set on one thing……FIND THAT TOY!!!
She comes from two very strong lines of dogs (vom Wachberg X Earl Antonius) known for their prey/ball drive. She displayed this tremendous drive very early on in her life which has made training a breeze and a pleasure to initiate.
This breeding will be a great cross bringing both size/substance as well as extremely high drive/ correctness to the table. Mamba is a living example that dynamite does, indeed, comes in small packaging. Her littermate sister already has a litter on the ground that turned out absolutely phenomenal and we are expecting the same, if not better, from this match.
Pedigree for MAMBA VON HARTENKERN

Sire
Multi V-1 BOBBY VOM WACHBERG SCH/VPG 3 BH, ZTP,AD OFA'd EXCELLENT Germany
Sire
Multi V-1 ODO VOM FLEISCHER DT.VDH-CH.SCH/VPG 2 AD,BH HD+/- ED+/- Germany

Sire
BALOU VOM SILBERBLICK DT.VDH-CH. SCH/VPG 3,FH,AD,BH GEK.b.14.05.02 Germany
Dam
CLEO VOM SPOKENKIEKER SCH/VPG 1,AD,BH HD/ED Frei Germany
Dam
WENDY VOM WACHBERG IPO 1,BH,AD,Gek.b.22.05.07 HD-Frei ED + Germany
Sire
BENN VOM RUPPERTBACH DT.VDH-CH. ES'98 SCH/VPG 3,BH,AD HD-Frei Germany
Dam
UMA VOM WACHBERG SCH/VPG 1 BH, AD HD-Frei ED+/- Germany
Dam
Multi V-Rated AXA EARL ANTONIUS OFA'd Excellent Normal Elbows Owner:Diane Reimanis
Sire
MULTI V-1 GONZZO EARL ANTONIUS IPO 1 CH SCG CHBIH CH.YU HD+/-ED+/- VYEu WIN.02 ADRK.ORLSg"04 BEN
Sire
NORRIS VON ALTEN FESTUNG HDA CACIB 15PRM 7x BOB 3x J.BIS.ADRK KI.Sg1 IPO 1 CAC HR13383
Dam
RIA-FLACH ROSSE Sp 83640 Rw 4 CAC 2R.CAC CH.YU IPO 1 HD-0
Dam
BRITA EARL ANTONIUS YU CH SCG HD+/1 ED+/1 85114 Rw
Sire
MORRO VOM HAUS MARKER YU CH. CH HR EDO ZTP,SCH 1 VDH-ES INTL CH.OBS HDO Sp 705183 Rw
Dam
GRESI CRNI LOTOS Sp 81975 Rw
NOW ACCEPTING reservations/deposits. We will be more than willing to place the best puppy with the prospective owners according to needs/desires of that individual owner. We will never deem it a requirement of any owner(s) of our dogs to actively show them, but simply provide them with a loving/responsible home.
Please continue to visit the website for information updates and feel free to contact either myself or Diane with questions about this or any other breeding in the future.
God Bless
For more information contact;
Dennis Posey :: MileStone Kennels :: (321) 295-3979 :: pantherpride405@msn.com
MileStone Kennels is are located in Central Florida.